Friday, June 3, 2011 at 4:09AM
-Bob Costas is here, which I'm pretty sure means that the whole world-ending thing hasn't gone down. There's "a view from above downtown Baltimore on the inner harbor" and if you look real close, it's only a kinda-murdery this afternoon.
-Animal Kingdom descends from his trailer and "now safely ensconced in his stall here." He stares into the camera, currently just outside Not Being Food, and he's like, "Well, if by 'ensconced' you mean about four and a half minutes worth of work from retiring to a life of pasture pimping and breeding date after breeding date, then yeah, Bob, I'm all ensconced up in here."
-I could go for a couple, maybe three lifetimes never hearing Bob Costas say the word "cupola" again, and be pretty good with that.
-Bob is all about adhering the viewer to the broadcast with the Triple Crown predictions. Bob hates everybody. "Let's be honest," he says into the camera. "It's a longshot." In the distance is a lone gunshot and the sound of a producer slumping over a bank of TV monitors.
-Hey, since backing Dialed In went so well in the Derby? Let's make him second on the line for the Belmont. What up!
-This 2011 Preakness logo is just about the fugliest thing I've seen in horseracing since the tragic 2009 Attack of Michael Jordan's Awningwear. It looks like something iron-transferred onto a Velva Sheen tee shirt, in 1982, at a mall kiosk across from the Tape World and next to a Chess King.
-The stock market tumble has ripped Donna Brothers' usual horse co-anchor right out from under her. She's hanging around the grandstand, helmetcamless. Will the cruelties of a crushingly debt-ridden economy never end?
-Ohhhh boooyyyy, it's the runner-up from (insert name of NBC's latest intolerable reality-based cooking show here)! That's how you know we're not in Derby territory anymore. The day of Bobby Flay extolling the virtues of his world-ending stew is over. It's the Preakness, it's Baltimore, and you get the FameWhore With Salad Tongs IV runner-up, tossing a side salad out of minced crab, olive slices, and wretchedness.
-The music behind the odds run-down sounds exactly like the song for the celebrity prank intro segment on TV's Bloopers and Practical Jokes. I want Ed McMahon. I want Dick Clark, and I want Bea Arthur mispronouncing the word "peanuts" as Estelle Getty breaks into peals of laughter.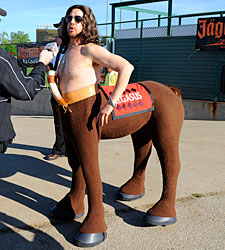 Kegasus kisses you!
-Tom Hammond: "So far we have been able to avoid the lure of Preakness mascot Kegasus." Tom, that ain't no braggin' ground to stand on. Kegasus has approximately as much lure as a Nazi child molester coated in SARS.
-GARY STEVENS! innnnn the hooouuuuuse. He is now dressed like a person with both cerebral hemispheres functioning, so let's all put Louisville's unfortunate Pattern Explosion down as a temporary one-man fashion implosion. See, that's what I like about you, GARY STEVENS!. You give it a shot, you hang it out there, you cut your losses, you move on. That's a badass.
-Animal Kingdom: The E! True Hollywood Story. Animal Kingdom shot Straight to the Top before he Lost It All and now he's two months out of rehab and it's all good.
-MOSTVALUABLETROPHYINSPORTSBURIEDDURINGTHECIVILWAR filler check: Complete.
-Robby Albarado, the jockey who was taken off Animal Kingdom after a track accident, working out by his locker. One of his eyes is still drooping and red; the scabs are still there. "Dude, That Sucks" music tinkles until we are informed that Mr. Albarado was recently arrested for assaulting his wife. Court footage and everything. Can… can we go back to the FameWhore With Salad Tongs IV runner-up, please?
-Hey! It's Train, singing "Hey Soul Sister"! Casey Kasem The Reader dedicated a live video of this in the Tasting Room a few threads ago. There wasn't nearly as much Kegasus involved in that broadcast, though, so I'm all about the YouTube version.
-Yeah, so NBC? On the heels of a feature which highlights Albarado's domestic abuse charges? You might not want to show his scraped-up face with the pronouncement that "misfortune struck."
-Nick Zito, leanin' over a barn barrier and wearing a long-sleeved shirt, a tie, and a flippin' sweater vest. Gonna be 81 degrees in Baltimore at post time, Nick. Might wanna de-layer.
-Bob Baffert, we are told, is "scratching his head" as to why Midnight Interlude finished in the Derby behind the leaders, the mid-pack, and Goodyear Blimp. Shot to his stall, where the horse in question is currently rubbing his head against the wall, eyes wide open and in general looking like the punchline to every single short-bus joke you have ever heard. Well, there's one Sudoku puzzle we can turn the page on. "No one really knows what the horse is thinking," Randy Moss confirms.
-Animal Kingdom Graham Motion is tagged as "dignified as always." A person with a British accent could cut one while picking his nose on-air and the general American populace would react with overwhelming appreciation for his elegance.
-Barry Irwin IS THE SUN in a yellow linen sportscoat. Bob Costas IS THE FURY by demanding that he further explain his post-Derby "tired of trainers lying to me" comment. Barry Irwin declines to give names, says he regrets the statement, but then "stands behind the substance of it." Well as long as that's clear. Costas is like, "Oh no no no no, glory be, heavens, no, I wasn't asking for names," and then's like, "It's Baffert, isn't it? Just nod if it's Baffert."
-Bob cools down the conversation by turning to the topic of equine doping. Barry Irwin announces that he'd like to see the FBI get involved. Bob then askes why everyone hates him, with follow-up questions on people threatening the safety of his horse, trackside euthanasia, stillborn foals, the number of jockeys killed or paralyzed each year, and genocide. Happy Preakness Day, everybody!
-Tom Hammond announces that Sway Away actually is a swayback. GARY STEVENS!, might this propose a problem for the jockey?
-GARY STEVENS! has beamed in trackside: "Tom? Yes," he says and drops immediately into a crouch. I hereby declare this suddenly the best pre-Preakness coverage in the history of the MILKY WAY.
-See, with a normal horse? His head is right here. And you perch yourself right here. A swaybacked horse, his head is up. You have problems with vision. (Here, to illustrate, GARY STEVENS! ducks head up, to the right, and to the left. He's got moves, moves you ain't never evah seen.) And you can pull on the horse too soon in the race. So what do you do? You do the best you can! This needs to be a Wii game IMMEDIATELY, and it needs to be called "GARY STEVENS! Dance Dance Vision Compensation Revolution."
-And what does Tom Hammond have to say about this virtuoso performance? "Looks like riding in a rocking chair to me, Gary." N-noooooo, no it doesn't, Tom, but then again you're very much not-rocking a purple tie with a plaid suitcoat, so you're entirely without credibility to begin with. Rocking chair indeed, with the tight vision obstruction demonstration that man was pulling.
-Today's Death Story Highlight is Astrology, who belonged to the recently passed Jess Jackson.
-Flashpoint is your grey, but he's a splotchy grey. Bet with caution.
-Concealed Identity is blind in one eye, a gelding, and trained by an 80-year-old. I keep straining to see the patch-ridden Goodwill blanket and sad, empty feed tub at the back of his stall, but we are spared further evidence of his greatly disadvantaged life.
-Bob Baffert is reminded that his stoopid, sullen horse ran in 16th place in the Kentucky Derby, that he has never come to a Preakness with an entrant who has run so poorly, and that also he is 60 seconds closer to death now than he was a minute ago. His thoughts?
-Here is John Velazquez. John, on a scale of 0 to running into your mother-in-law in the parking lot of a strip club, exactly how AWKward was it to be in the jock's room with the man whose mount you snatched up?
-NBC: Mary Beth, would you like to watch The Voice?
ME: F-no. Thanks though.
-Dale Romans, trainer of Shackleford: "So Dale, we've paid you absolutely no attention all day, now we're wondering what you'd like to say about every single other horse in the field."
-Bob Costas interviews the small children of the trainer and the jockey of Animal Kingdom. This goes exactly as well as you might expect.
-Hey remember Secretariat, Seattle Slew, and Affirmed, and how they were awesome? And now we've got, like, Midnight Interlude? Stay tuned for the big race!
-Maryland Racing Commission Head Steward John Burke is addressing the jockeys, and it's in a room with two sets of bunk beds. Mike Smith is sitting on one, staring furiously at the ground, seething over this business of his ol' man telling him that he can't borrow the car because he hasn't mowed the lawn.
-Shackleford has passed the commercial break kicking the living crap out of surrounding air molecules. Shackleford, given the past 94 minutes, I feel you, bra.
-After all I've been through, and everything I've seen, this one fact remains: The only thing better than a male glee club singing a cappella is a male glee club singing a cappella in uniform.
-Dance City in the post parade. Todd Pletcher Losing Things Update: The only Triple Crown race he's not won is the Preakness. NBC has all kinds of B-roll of Todd lying around the editing room from last year's Preakness, and it would very much like to clear it out.
-The next person to say the words "new shooters" gets a new shot in the face. And not the good kind.
-Donna Brothers calls out two of the horses as fat. They're fat, and she doesn't want them sitting at her cafeteria table.
-Dance City pre-loses for Todd Pletcher by utterly refusing to get into the gate. "See, Todd, I'll spare you actually having to watch what happens next. You're welcome."
-Shackleford and Dance City have declared a sweat contest. Al Roker wins.
-HORSESHORSESHORSESHORSES
-That is a pretty tight pack. They're all mashed together. It's the most co-dependent Preakness I've ever seen.
-Shackleford: "THIS SUCKS. ALL OF YOU SUCK. I WANT THIS OVER WITH. EEEFFFFFF YYYOOOOOUUUU..."
-Animal Kingdom lopes in behind him, all "Hey, wait for me!"
-Trainer Grahm Motion is teddibly teddibly disappointed, and shan't take the lorry to the fancy-dress gala.
- Winning jockey Jesus Castanon calls Donna Brothers "ma'am." I'd shove him right off the horse. Last month, a waiter called me "Miss," and he totally got a 250% tip.
-Velasquez: I blame the gate. And my horse's face. And the quarter pole. And also the other horses.
-The Governor of Maryland begins the solemn process of presenting the Woodlawn Vase with the word "Hey!"
-GARY STEVENS! is bored and already folding stuff on the anchor desk. Belmont me, baby.
WORDS BOB COSTAS USED TODAY:
Cupola
Pegasus
Centaur
Ensconced
Monosyllabic