Monday, August 23, 2010 at 6:55PM
Last week I wrote on The Side Dish about the dubious awesomeness of actually attending a major sporting event. I mean, you'll hear people say that they were present at highwater games, but even if you're butt-in-seat, sometimes you're just better off staring at HD-grade lingering shots of Drew Brees' nosehair.

The Reds-Cardinals scrum wasn't just your usual batter-rushes-the-mound-and-everybody-kind-of-mills-around affair. I was sitting in the center field bleachers of Great American Ballpark next to Fletch The Extremist (whom longtime Blonde Champagne readers will remember as Josh The Pilot's college buddy, originally and best described in this space as "a person who must be met to be believed.") We were minding our own business--okay, I was minding my own business; Fletch, acting as the Agent of God, was personally inflicting nine innings of Purgatory time upon me by ensuring everyone within a multi-row radius was aware of the fact that he was rooting for the Cardinals. So I'm minding my own business, me and my $47 Strawberry Chill, when all of a sudden the fans across the field began to roar and the contents of both bullpens went tearing past us. That is a serious for-real fight, when the whole entire bullpen traverses the enormous distance all the way from Ballpark BFE to home plate.

And yet, right there, right in the stadium, with a $10 million Jumbotron at our disposal, all we could see was this:


Granted, I'm working with a free cell phone camera here. It does not have twelve mile zoom capability. But we had no idea what was going on, so we did what all Americans do when confronted with a dubious situation: We jumped to our feet and began yelling obscenities.

It was not a nice introduction to Great American Ballpark, which has been open for seven years and is still firmly referred to as "the new Reds stadium" by perpetually angry people like me who still also use "Riverfront Stadium" and "Riverfront Coliseum" in the present tense. The last game I saw at Riverfront was the first home game after 9/11. People had little flags, everybody cried, we sang "God Bless America," and people kept stealing glaces at the sky because we all knew that the terrorists' knockout punch was going to be on the 400 attendees of the titanic battle for the basement of the NL Central.

As I spent the majority of my time at the game in Fletch-related hostage negotiations, I did not have the opportunity to give the new trophy wife a once-over. What I did see of it was amusing in its valiant attempt to recreate pokey old Crosely Field, which was derided and destroyed in the '70s to make room for one of those new awesome Astroturfed concrete bowl thingies, which would surely stand forevermore.

New Wife at least got its history right, decorating the walls with Winold Reiss-style mosaics honoring the first Reds team and the Big Red Machine with a third space left conspicuously blank for a future historical icon, perhaps the exact moment at which Pete Rose first appeared on QVC.

What I liked best about GAB had nothing to do with its cupholders (SCORE!!) or the fact that it includes a convenience store which sells Imodium AD. It was the rank newness of the place, the mere fact that all the toilets flushed. By the time I was old enough to attend games at Riverfront, we had already, as a city, beaten the living hell out of it; years after years of serving both the Reds and the Bengals gave Second Wife Stadium the air of a solid, familiar but incredibly tired venue which just wanted to put its feet up and watch the night rebroadcast of General Hospital on SoapNet.

Despite this, Third Wife Stadium was apparently designed by MC Escher for a population of meth addicts. Great American Ballpark is not a circle, or a square, or a diamond; it just kind of has...sides, and these are all separated by sections of seating, none of which are actually reachable from one another. As we sought out our seats, Fletch and I somehow wound up on an overlook three-quarters of a stadium away from the entrance gate, and there was no discernible way of reaching our row without first descending a wavy staircase of increasingly deep steps to the outside wall of the park, walking the length of three concession stands, and negotiating a wormhole.

And in its rush to also be What All The Kids Are Talking About These Days, GAB made a horrific error regarding the very backbone of baseball: The Mr. Reds Race.

The Mr. Reds Race, back at Riverfront, properly consisted of three electronic dots moving from left to right across the scoreboard, the same scoreboard with the burnt-out pixel which often led attendees to believe that the Reds regularly played the likes of EW YORK and ITTSBURGH. The Mr. Reds Race was typically broadcast in later innings, because the drunker you were, the more you'd care.


The Great American Ballpark version combines every single thing which is horrible about Western society: Computer animation and bad mascots.

First, a bit of background. The mascot of the Reds has long been--in the great tradition of the artistically creative haven which is Cincinnati--Mr. Red, a giant baseball in a Reds uniform. We're an old team and therefore have not had to suffer mascot-by-committee, which explains the horror of pretty much every single Olympics mascot all the way back to Greece (because seriously? when the best description the PR office has is "an abstract figure?" You're not representing very well.)

It was then decided that no, an enormous baseball wearing a baseball uniform does not sufficiently represent a baseball team, so Reds management inflicted Gapper upon us:
But then the ad wizards who came up with this one decided that--wait, maybe the an enormous baseball wearing a baseball uniform does sufficiently represent a baseball team, so in addition to Gapper, they ladled on three enormous baseball heads: An updated version of Mr. Red, a slutbag imported from Newport named Rosie, and, to appeal to the child molester demographic, Mr. Redlegs.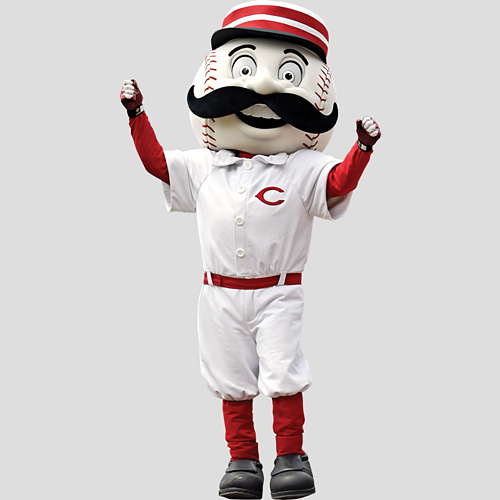 These franchise improvements have resulted in this being pretty much the best moment in the history of professional sports:

[youtube=http://www.youtube.com/watch?v=QAEkBLe5_D0&fs=1&hl=en_US]

So recently Great American Ballpark gave itself a new scoreboard, and unveiled a new Great Mr. Reds Race along with it. The front office promised that "when fans see it, they will gasp," which was completely the case: We were all struggling to keep our peanuts and beer down. It's on the scoreboard, it involves Mr. Red, but It. Sucks. If you thought you hated computer animation, you have not met the new Great Mr. Reds Race. You will not be surprised, for example, to learn that the participants, far from being inoffensive, comfortable dots, are now not solely Mr's. The only thing that could possibly make this worse is the addition of Jar Jar Binks.

In any case, on this night, the Reds idioted themselves into a six-run hole, necessitating the guy and his beer next to us to go to the rally cap:


Not that it helped.

terribly sorry I was away, but you really don't want to know where I've been at: mbe@drinktothelasses.com